Denise Best
(née
Royle
) is the daughter of
Jim
and
Barbara Royle
. She is married to
David Best
, with whom she has two children,
David Best
and
Norma Best
. Her brother is
Antony Royle
, and she is the aunt to his two children,
Lewis Royle
and one whose name is unknown. She is the granddaughter to
Norma Speakman
and the daughter-in-law to
David
and
Jocelyn Best
.
Personality
Edit
As the only daughter of Jim and Barbara, Denise is extremely lazy and obnoxious. She has never actually made a proper meal. She has only made small meals such as spaghetti hoops, steak and kidney pie and dairylea on toast. Denise rarely parents her children, leaving them in the care of others. She also has a really close bond with her mother. She supports her whilst working at the bakery and also whilst going through the menopause. She loves to watch Jeremy Kyle and Trisha and along with her mother, loves to smoke. Denise is the only person in the family not to have a job.
Appearance
Edit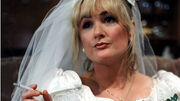 Denise's appearance is very colourful as she is always dressed in brightly coloured clothes. Her hair starts off blonde with tints of brown but gradually gets more blonder. Eventually, she gets blonde and pink hair extensions. Denise regularly has her fingernails painted and always wears jewellery. She has blue eyes just like her mother.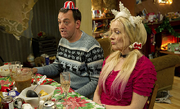 In 1998, Denise and Dave get married after 5 years of being together. In 1999, they announce that they are pregnant with their first child in which Jim and Barbara are overwhelmed with the news. On Christmas Day 1999, Denise goes into labour in the bathroom and later gives birth to a baby boy called David Keanu Ronan Best with the support of husband Dave, father Jim and mother Barbara. In 2006, she is pregnant with her second child. She gives birth to a baby girl Norma Orchard Tallulah Porscha Best After her beloved Nana who says she has be holding on to meet baby Norma